09 May

From Chaos to Clarity: How to Organize Your Planner When you Have ADHD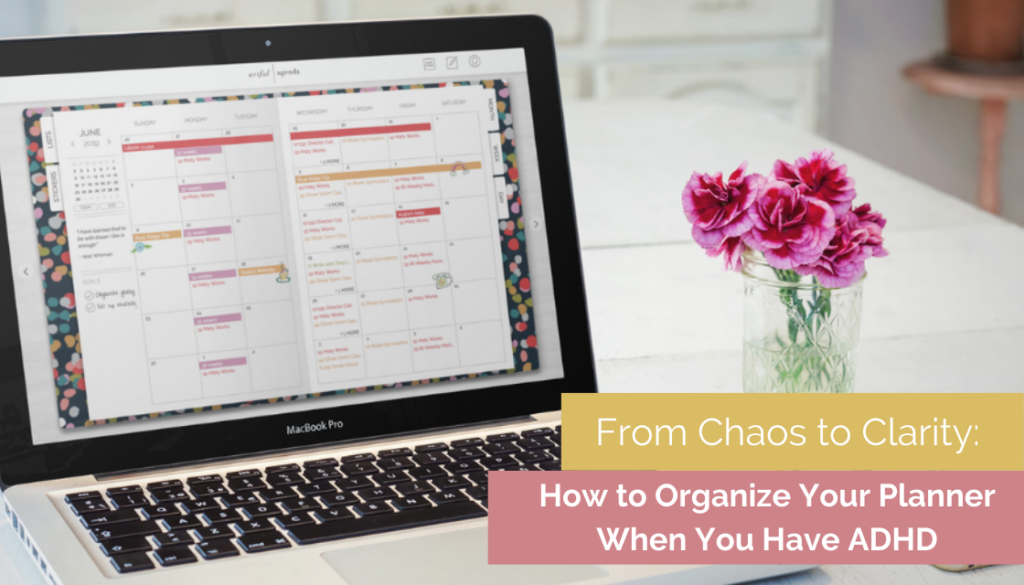 Greater awareness and understanding of the symptoms of ADHD has resulted in diagnoses among adults growing four times faster than the ADHD diagnoses among children in the U.S. Many adults who have always struggled with the ability to plan, organize, prioritize tasks, focus, and manage their time have discovered that these issues are not character flaws but symptoms of their neurodevelopmental condition. Whether you have ADHD or just have so much going on that 'adulting' is overwhelming, we have seven tips to help you organize your planner and take the chaos of life and turn it into a clear vision of what to do next.
Brain Dump
Forgetfulness and poor short-term or working memory are often linked with ADHD. That is why it is critical to get your thoughts, ideas, and to-dos out of your brain and into your planner as soon as possible. Set aside a specific time at the beginning and end of the day to do this. It is a good idea to set an alarm to remind yourself until your brain dump sessions are your habit. But since tasks and thoughts don't always come to you while you are sitting at your desk, you could pull out your phone wherever you are and add the task or information to your planner right away. Utilize smart assistants like Alexa or Siri for the times you are unable to pull out your phone, but make sure that during your next brain dump session, you retrieve the information you saved there.
Categorize
One long list of every task that needs to be accomplished is very overwhelming to the ADHD brain. Dividing a long list into multiple categories makes the same amount of tasks seem much more manageable. Decide what categories work best for you. It could be by specific areas of your life such as personal, work, kids, or school, or it could be by type of task such as phone calls, emails, errands, projects, or chores. Figure out which system works for how your brain works.
Prioritize
Most of us have more items on our to-do lists than we could possibly accomplish in a single day, but all tasks do not carry the same level of urgency or importance. It is critical to recognize what are the priorities on your categorized to-do list. The ADHD brain tends to jump to the lower-priority physical tasks in favor of the more cognitively demanding higher-priority tasks so it is crucial that you consciously set your priorities for the day or you will find yourself always busy but not moving forward with your goals.
Only add your priorities for that day to your Day view in your planner and make sure to set them to roll over. Out of sight is out of mind, so if that unfinished task doesn't follow you to the next day, you will likely forget! If you complete all of your priorities for the day and you still have the time and energy to do more, revisit your master list and add a couple of those less urgent or important tasks to your Day view.
Time Block
An hour-by-hour plan for a whole week isn't realistic even for the neurotypical brain. Because ADHD brains tend to be spontaneous, trying to follow a strict routine can even be counterproductive. Instead, loosely plan the day ahead based on the priority tasks you've identified. Designate blocks of time on your calendar for those tasks. Doing so could help make it less likely that you will get pulled in the wrong direction. Create a separate time-blocking calendar and either add specific tasks or task categories such as 'writing,' 'errands', 'emails', or 'project research.'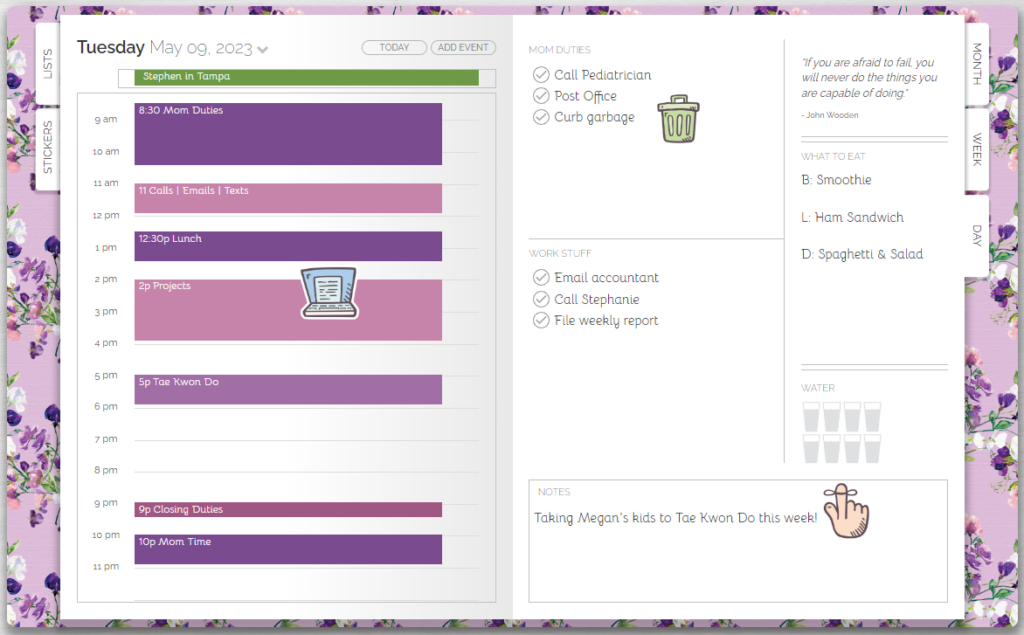 Add a Buffer
Struggling to estimate the time tasks will take to complete seems to go hand in hand with ADHD, so it is easy to overbook yourself if you're not careful. Adding an extra 30 minutes per event as a buffer will help mitigate 'time blindness' and the inevitable spiral of panic that happens when you start to feel that you are running behind schedule. A helpful time management hack is to set up default push notifications for each of your calendar categories. This will remind you to wrap up your current task and give yourself time to physically or even mentally prepare to move on to the next item on your agenda. If a task or event involves travel, add the travel time to your calendar as well. Use your map app to see how long the estimated travel time is and add a cushion to account for traffic delays.
Make it a Game
For people with ADHD, it is often easier to start and stay engaged in bigger and more challenging projects, while tackling smaller, more mundane tasks can feel overwhelming to them. Gamification is a technique that can make life with ADHD easier by providing an extra boost of motivation to get those dull but necessary tasks done. This method works by stimulating your brain to release dopamine in its primary reward circuit. ADHD brains love competition because dopamine makes you feel better and in turn, increases motivation! Ways to gamify your tasks are to challenge yourself to complete a set of tasks before the time is up, or assign point values to various tasks and track how many points you earn by the end of the day.
Reward Your Brain
If you were diagnosed with ADHD in childhood, you probably have memories of sticker charts that helped you track your progress and earn rewards. Here is great news— tracking your progress and earning rewards works for adults with ADHD too! You can put tasks on your planner that you know you will accomplish or have already accomplished, just for the satisfaction of checking them off. Add fun stickers to your Artful Agenda to create the adult version of a sticker chart. Change up your agenda's theme by changing covers and colors for an instant boost of dopamine that will keep you happy and energized. Remember all those points you earned from gamifying your tasks? Identify pleasurable activities or experiences that you will gift yourself only after you reach your target points.
When you organize your planner while using all or some of the seven tips above, you can start to bring your life from chaos to clarity, leaving you feeling less stressed and ready to tackle your day!
If you haven't yet experienced Artful Agenda, the most ADHD-friendly digital planner available, you can take advantage of our FREE two-week trial and start implementing these tips today!